You want to know what information
is stored about a Seychelles company?
We have the facility to issue a Certificate or Extract of Registration for any company in the Seychelles. The company must be incorporated in the Seychelles. The certificate is an official issue of the government of Seychelles.
This official search for a company can each apply through us, not only the company founder or owner. The result shows all relevant data, regarding the current situation of the company. You can obtain details relating to registered IBCs by providing us with either the company name and/or company number.
The research report contains an extract from the Seychelles Financial Services Authority (FSA) issued under the International Business Companies Act 2016 confirming the latest company details including company status.
This certificate is optionally certified with an apostille should it need to be presented abroad. This ensures that the document is officially recognized as a Seychelles document.
An Apostille legalizes documents for international use so that they are recognized under the Hague Convention.
We can have the certificate of official search issued for any Seychelles Offshore IBC or CSL company, any Limited (LTD), also business extracts for local companies.
Finding information about a company in Seychelles is easy for us. For example, the register certifies the following according to the documents in the company's file:
Information about the Address of the company
Seat of the company
Information about possible burdens
Good standing or struck off
TIN and/or Business Registration Number
Processing time approx. 5 working days
Certificate of Official Search, this is included: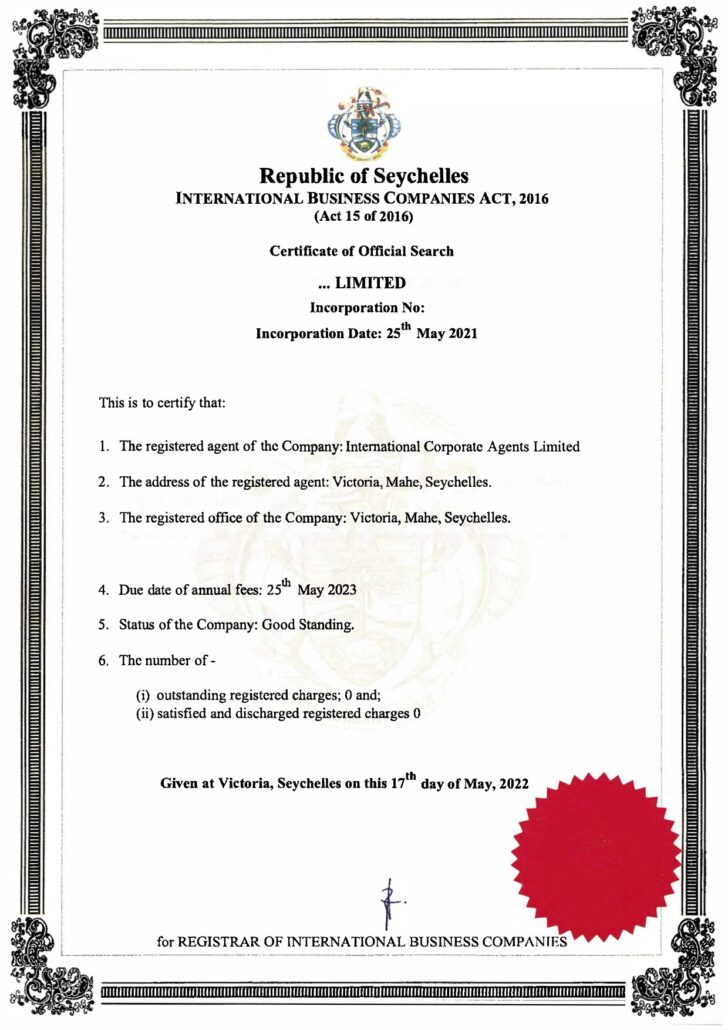 The name and registration number of the company
Date of its establishment/conversion/continuation
The name and address of his registered representative
Address of the registered office
The name of the Company is still on the Register of International Commercial Companies and the Company has paid or unpaid all fees, royalties and costs due and payable under the provisions of the IBC Act, 2016
The date and description of any mortgage, hypothecation or charge recorded and/or waived.
The company is in active condition, liquidation or dissolution
So far as appears from any documents filed with the Registrar of Companies, the company is or is not in good legal standing
Signed and authorized by the Seychelles Registry
Can be optionally equipped with a Apostille be issued by the Supreme Court of the Seychelles
Will be sent as PDF in an eMail and can also be sent with optional costs with DHL Express Courier be shipped
Processing time approx. 5 working days
---
[getpaid item=30022 button='Buy Now']